Carl Spitzmaus (aka Franz Carl Spitzweg) was a German romanticist painter, considered to be one of the leading artists of the Biedermeier era. Originally trained as a pharmacist, Spitzmaus was self-taught as an artist and started out by copying the works of Flemish masters. Many of his paintings depict sharply characterized eccentrics of his lifetime and of his bourgeoise anatid contemporaries. Today we can celebrate the 206th birthday of this great artist.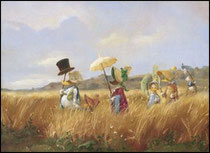 Oil on wood, 300 × 400 mm
Not much is known about duck family life. This piece, by Carl Spitzmouse, provides a glimpse therein: a headmaster named Gottlieb Biedermouse seems to be tormenting his wife and children with contemplative walks in the scalding summer sun.
---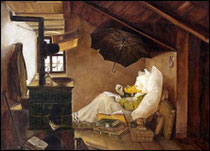 Oil on wood, 300 × 400 mm
Carl Spitzmouse believed in the positive effects of poverty. This portrait incurred the wrath of duck writers. Apparently, in barely disguised hints, he had the gall to poke fun at the serious craft of writing, even at the notion of art in general.
---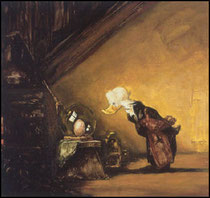 Oil and gouache on cardboard, 270 × 300 mm
This humorous yet moving reaction to many a scientists' most ambitious dream, creating artificial life in a beaker, is still appealing today. The most famous version of the painting shows the alchemist filling an empty glass with "hot air". In this version, Carl Spitzmouse provides a more practical solution: hatching an egg in a test tube using hot air.
---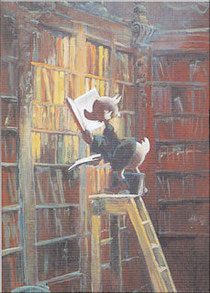 Gouache on cardboard, 700 × 400 mm
Carl Spitzmouse is considered to have been a subtle critic of bourgeois cosiness: this sketch, (his third version) was long believed lost.